Towing Service in Pottstown
When you need towing service in Pottstown, turn to our highly skilled and professional team here at Jaybird Towing & Recovery! We are a proud AAA certified provider of towing in the area. However, we are happy to help you out, whether or not you are a AAA member! Whatever time you may need a tow, we will be ready for you. We can help you out day or night, during the week or on the weekend, and on all holidays. Vehicle troubles never happen at a convenient time, which is why we promise to be here 24 hours, 7 days a week!
Towing, Roadside Service, & More!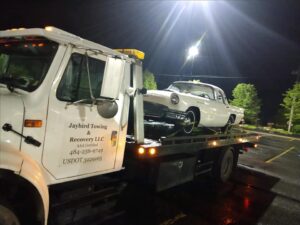 If you have a light or medium duty vehicle, we can tow it for you! When you request a tow with us, we will be there in no time to get you back on the road as soon as possible. Not only this, but we treat your vehicle as if it is one of our own, ensuring not even the smallest scratch shows up on your car. Do you need a jump start, tire change, fuel delivery, or lockout service? No problem! We offer roadside service here at Jaybird Towing & Recovery! We are also able to provide winching services to drivers in the area. So if you are stuck in the mud, don't panic, just give us a call! We can quickly get your vehicle out of the mud without causing any further damage.
Did you know we also provide transport service? If you have a vehicle you need transported, we can take care of that for you. If you have a motorcycle, you don't want to call just any tow company to take care of it for you. We have special equipment, and our team is well trained and highly skilled at towing motorcycles. You can rest easy knowing that any vehicle you put in our hands will be handled with care. If you want to see why we are the best choice, just head to the "Reviews" section to see what people have said about our service! We strive to provide five star service to all of our customers, and you will be able to see this when you read what everyone has to say about our service.
Request a Tow
Are you ready to request service with us? Just call us at (484) 256-9749. If you are in an emergency situation, or need immediate assistance, this is the only way you should request service with us. However, if you have some time on your hands, you can request service online. On this page, you will find an online form that you will need to fill out completely. Please also be sure to include as many details as you can, so we are able to know how to best provide service to you. Once you submit the form, someone from our team will be reaching out to you as soon as they can. We are proud to provide service to drivers in and around Pottstown, PA!
Along with Pottstown, we also provide service to drivers in Boyertown and surrounding areas!