Auto Repair & Inspections in Pottstown Pennsylvania!
Did you know Jaybird Towing & Recovery offers auto repair and Inspection services? That's right, bring your car or truck to Jaybird for regular maintenance and repairs as well as state inspection.
Our team will ensure your vehicle is up to date and operating safely at all times!
If you're in need of car or truck maintenance and repair give us a call at Jabird Towing & Recovery and our team will get you fixed up ASAP!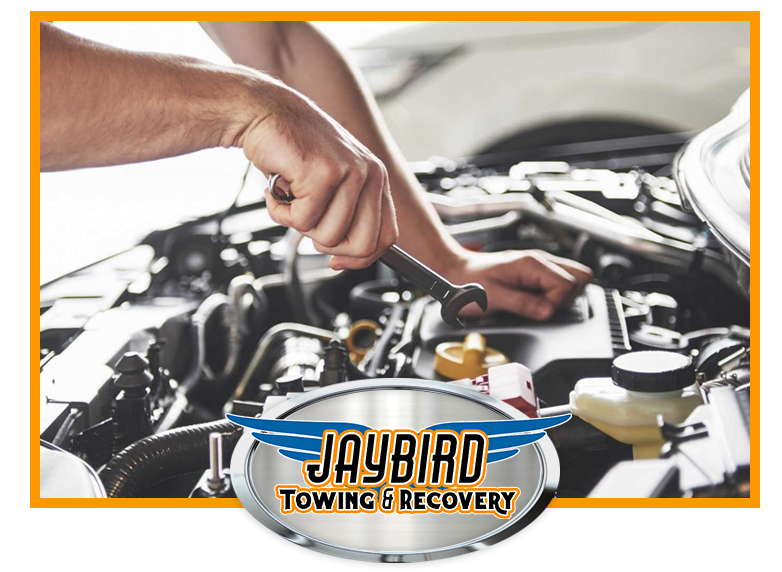 Call Jaybird Towing & Recovery Today!
Customer Reviews


randy kraemer
18:10 24 Jul 20
Jaybird towing was awesome ive used them 3 times and there consistent always get quickly take care of buisness and are cheapest youll find and everyone i met there are pretth cool people 5 star all day!!!


Mollyann Carroll
22:45 14 Nov 20
Can't ask for a better tow guy Dennis Varner
14:32 15 Mar 20
These guys will go above and beyond to ensure your vehicle gets from point a to point b safely. Jake helped me when I was in an accident and he made my disastrous night a thousand times easier. I can personally say that these men are some of the most kind and down to earth people, I highly recommend Jaybird Towing.

Angelina M
23:07 07 Feb 20

Melissa Hegab
08:58 27 Jun 20
They were a big help with a very difficult situation but they handled it perfectly and were very professional. Highly recommend!

Shaun Croissette
21:36 11 Nov 20
Very quick to respond and very friendly and helpful! Trish Stone Seidle
16:44 24 Oct 19

Fast and professional service. My motorcycle broke down. Matt showed up quickly and loaded up my bike like it was his. Would definitely call them again.

Jason Williams
16:27 09 Aug 19
They came out promptly with no problem they're some great people.if you need help call them

Willie Dgrez
13:09 03 May 21

Jamie Gehman
17:41 20 Nov 20

Brad Bachman
12:34 27 Jul 21
They were able to fit our truck in quickly. Thank you!!

Barbara Jean Giacalone
22:24 18 Mar 21
Towed my old Falcon from just above Bear Creek to J&K Industries near Boyertown. Fast, friendly service at very reasonable rates ! definitely recommend ! 🙂

Hereford98
21:35 07 Jul 21
They rescued me today when my Explorer broke down very professional and prompt they are AAA approved also that's a big plus + great company ++++ Jeff Oswald
22:02 08 Apr 21
Prompt, professional towing services! Jake, the recovery professional who rescued my stranded VW, had me loaded up in no time and we even had nice conversation during our drive to drop off my car for repair. Thanks guys!

Sean Butler
14:56 28 Mar 19
fast response time and very courteous! A+++ rating from me! Lance Adam
14:14 15 Mar 20

These guys are fantastic!! I called them out for a tow from Morgantown at 530 and he was there within an hour to pick up the car. there were issues with the car but he was professional and had it loaded and ready to go quickly. He placed the car perfectly, nice and out of the way and was just so great to work with. I will 100% call them again in the future if I need a tow service again. I would recommend them to anyone that is looking for amazing service and an experienced company.

Samantha Brigman
00:19 16 Sep 20

Cathy Hafer
15:27 14 Jan 20
My son locked both sets of keys in his car and after two hours if trying, he couldn't get in. The Jaybird team answered my call at 9PM, came out and got the door unlocked quicky. Now that is great service. Thanks!

Richard Anstett
02:44 11 Jan 20
I was extremely pleased with the service provided.

D. Irizarry
19:41 17 Apr 21

Brian Yingling
18:26 31 Aug 20
I know the guy for many years and is great at what he does and I would recommend him to anyone Rich Miller
05:53 04 Jan 20
Called and spoke with Jake, was out to tow my Chrysler van in 20 min. Friendly fast and efficient. 5 stars easily!!! Will definitely be using them again.

M.K. Thompson
17:10 18 Jun 21
Fast very friendly locked my keys in my truck he got in it like a minute great job thank you again

Theresa Vandenbos
06:43 08 Nov 20

shoot_ to_thrill 70
22:21 05 Dec 20

Pamela Weakland
23:41 10 Aug 20

Pam Thornton
18:15 16 Jun 20

Tara Flammer
17:01 24 Jul 21
We had the pleasure of dealing with the owner. We were quoted an hour by AAA, he was there in less then 30 minutes. He discovered our battery had 2 volts and was dead. He got the battery out and changed in less then 10 minutes. Personally I will be using him again. Very nice man, he talked with me and my parents as he changed the battery and was not rude at all.

Joelle Neiman
20:13 13 Oct 20

Darkkiller
20:41 22 Jul 21

Linda Raser
23:22 20 Feb 21
This guy is legit. Showed up rain or shine got it done quick.

Zilla geddon
23:14 03 Sep 20
Simple and fast service, will definitely use them again if needed.

Amber Saltarelli
17:54 12 Aug 20

John Bingaman
09:58 27 Jun 21
Fast, professional and courteous service! I first called AAA and had a tow truck lined up. They called me back 15 minutes later and told me that the truck was not coming and it could be a while. I googled towing companies near me and found Jaybird. They came within 10 minutes and saved the day! I would recommend them to anyone in need!

Christopher Golla
23:45 17 Jul 19
My truck broke down and within 15 mins of calling, they had a tow truck at my location. Very friendly and professional.

Michael Nagy
23:05 12 Oct 20

tyrone graves
10:20 26 Mar 21

Charles Brooks
02:06 05 Mar 21

Johnny Salerno
21:47 13 Feb 21

Elisabeth Huot
22:28 17 Jan 21

Clayton Miller
00:27 11 Aug 19
My car broke down and left me stranded at WaWa last night.Jaybird Towing was quick to arrive and the driver Jake was one of the most professional and nicest people you could ever ask for..Had my car loaded quick and got us safely back home..Would highly recommended to anyone in need of a tow.

Bravo Sniper
06:12 04 Feb 20
Matt & Brandon did a great job moving a large toolbox this weekend. Arrived on time & moved it promptly.

David Short
19:19 21 Oct 19
Fast, friendly, and curious service! On time and towed me from a dangerous area. Will recommend this company to everyone!

Kyle Ann Carlson
22:01 30 Oct 20
They will do everything in their means to assist you.

great honest customer service Wes Reinert
19:48 19 Mar 19
3/8/2021 they arrived in minutes and successfully recovered the vehicle with professionalism and patience. I was very impressed with their kindness and care with the vehicle. They went above and beyond. Thank you for a job well done!! Debbie Daigneault
23:13 10 Mar 21

Jennifer Alderfer
01:48 03 Feb 21
I would definitely recommend this towing company! I needed to have my vehicle towed to a dealership while traveling out of town. Professional, courteous.

We called our insurance company for a tow to our garage. Steve from Jaybird showed up (on time). He was absolutely wonderful and ended up helping us that we didn't need the tow at all. He explained what was wrong and was patient with us. Showing us what the issue was. We will definitely use Jaybird in the future! Thank you Steve!!!!

Jennifer Davidheiser
21:24 15 Jul 20
Very fast and courteous Cj was a true gentleman!

Scrub Media
20:03 27 Oct 19

Kate Huber
06:51 11 Jan 21
Driver showed up quickly and was able to pop open my door to get my purse and keys out! Thank you!

Today I broke down and through my insurance roadside assistance, Jaybird was sent to get my vehicle and I. The Driver Bret was AWESOME!!Great tow and conversation. Would use them again.

Jameson Wendell
00:52 19 Jul 21
John did a great job replacing my dead battery. Very fast and efficient. Rich DeMenno
14:21 20 Jun 20

Alfonzo Fondren
00:26 21 Aug 20