Towing Service & Roadside Assistance in Pottstown Pennsylvania!
Jaybird Towing & Recovery offers a broad range of automobile towing and roadside services.  We can provide instant solutions for any problem you might have with your vehicle.  Our experienced team has the training necessary to service your vehicle efficiently and safely.
We understand how frustrating vehicle related problems can be, and we are dedicated to providing efficient light, and medium duty towing to help get you back on the open road as soon as possible.
Whether you need a local tow, long distance transport, or a quick jump start, we'll be there when you need us!
Call Jaybird Towing & Recovery Today!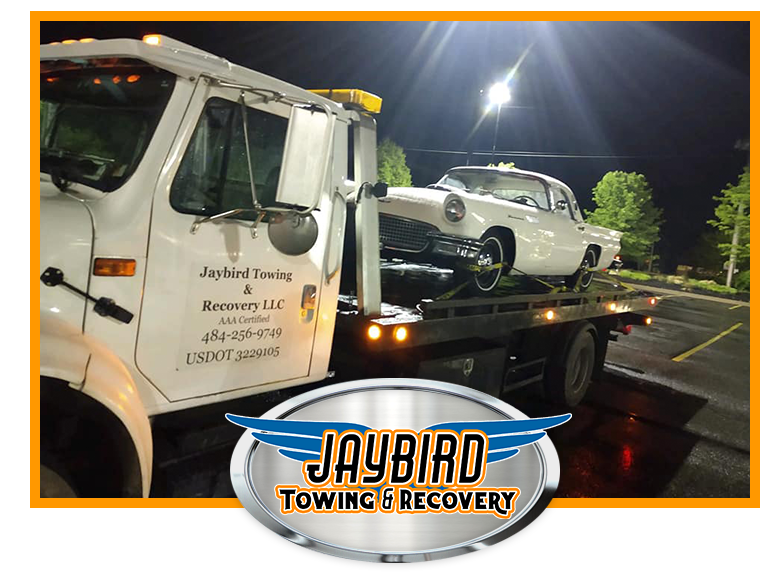 Our Towing & Roadside Assistance Services

What are you waiting for?  Call Jaybird Today!
Customer Reviews

My classic Harley got a flat late on a Friday and I was forced to leave it in a business parking lot. I called three companies the first two either didn't do motorcycles or needed me there to pay before they would pick it up. (I was working and could not be there) When I talked to the man at Jaybird also a rider he was very concerned about my bike sitting there with thunderstorms in the forecast. My next call was to let me know it was done and safely at a shop getting a new tire. It was a holiday weekend to boot. Great experience great price great people!

Doug Jones
22:27 03 Jul 22
Jaybird was great had a customer broke down on the side of the road very late at night and they rushed right over to pick up the car and brought it to my shop even helped get it inside thanks jaybird

Rob Deering
13:49 04 May 22
Towed my old Falcon from just above Bear Creek to J&K Industries near Boyertown. Fast, friendly service at very reasonable rates ! definitely recommend ! 🙂

Hereford98
21:35 07 Jul 21
Keith is one in a million, he helped beyond what could be expected. He's a real one 💯. I'll think of Jaybird next time. Hopefully there's not a next time tho.

Sean Keehn
07:24 19 May 22
I would like to thank your team member, Brandon, and another team member who I did not get their name, for seeing that my son's car broke down on Route 100 and immediately jumping out to help him. They stopped traffic and jumped his car so the car could be moved off of the highway. They could have just kept driving, but were kind enough to help him. I appreciate them so very much. You have great team members! Jennifer Palmer McFalls
18:56 16 Sep 22
They came out promptly with no problem they're some great people.if you need help call them

Willie Dgrez
13:09 03 May 21
We were stranded and the young man that they sent out was excellent. There were several times he could have given up and I would not have blamed him. He kept at it and got us on our way. Highly recommend Jaybirds

Alan Eckman
01:20 29 Nov 21
Brandon did a great job and answered any questions I had. I highly recommend this company!!

Amanda Keyser
23:32 13 Jun 22
Needed a jump this morning and my insurance sent Jaybird. I didn't get the guys name but he was super friendly, on time with the eta provided and gave me some recommendations as to what may be going on with my car. Would definitely use them again! Thank you!

Shaniqua Neville
14:00 16 Nov 21
Jay bird towing is the best guy came right away and bailed me out we slid off the road 5 hrs from home they came and got use going in no time freindly fast serives were care full with your car

Cj Speizio
01:26 21 Jan 22