Towing Service & Roadside Assistance in Pottstown Pennsylvania!
Jaybird Towing & Recovery offers a broad range of automobile towing and roadside services.  We can provide instant solutions for any problem you might have with your vehicle.  Our experienced team has the training necessary to service your vehicle efficiently and safely.
We understand how frustrating vehicle related problems can be, and we are dedicated to providing efficient light, and medium duty towing to help get you back on the open road as soon as possible.
Whether you need a local tow, long distance transport, or a quick jump start, we'll be there when you need us!
Call Jaybird Towing & Recovery Today!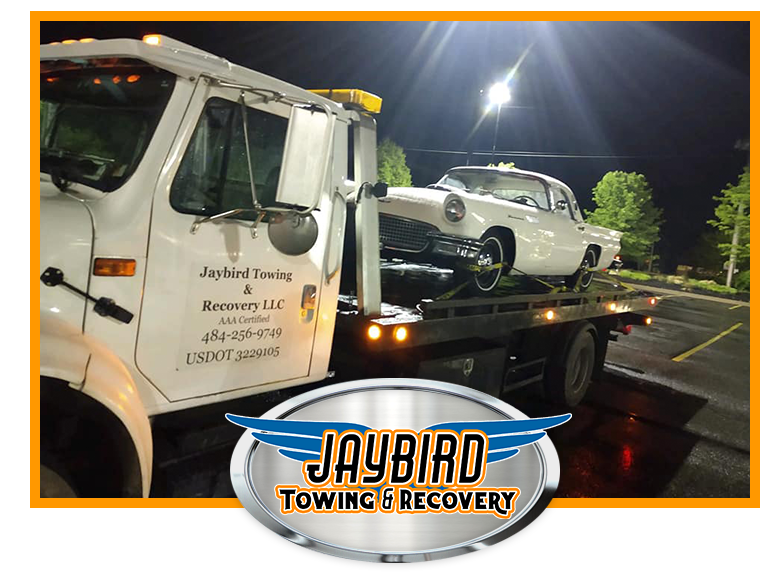 Our Towing & Roadside Assistance Services

What are you waiting for?  Call Jaybird Today!
Customer Reviews

Fast, professional and courteous service! I first called AAA and had a tow truck lined up. They called me back 15 minutes later and told me that the truck was not coming and it could be a while. I googled towing companies near me and found Jaybird. They came within 10 minutes and saved the day! I would recommend them to anyone in need!

Christopher Golla
23:45 17 Jul 19

Cathy Hafer
15:27 14 Jan 20
Prompt, professional towing services! Jake, the recovery professional who rescued my stranded VW, had me loaded up in no time and we even had nice conversation during our drive to drop off my car for repair. Thanks guys!

Sean Butler
14:56 28 Mar 19
Matt & Brandon did a great job moving a large toolbox this weekend. Arrived on time & moved it promptly.

David Short
19:19 21 Oct 19
Very fast and courteous Cj was a true gentleman!

Scrub Media
20:03 27 Oct 19
Such an honest and reliable person and company! Wish they were located closer if I ever needed a tow! Olivia Rose Baccari Stoltzfus
13:10 27 Jan 19
My son locked both sets of keys in his car and after two hours if trying, he couldn't get in. The Jaybird team answered my call at 9PM, came out and got the door unlocked quicky. Now that is great service. Thanks!

Richard Anstett
02:44 11 Jan 20

Darkkiller
12:43 16 Jul 19
great honest customer service Wes Reinert
19:48 19 Mar 19
Very quick to respond and very friendly and helpful! Trish Stone Seidle
16:44 24 Oct 19
Fast and professional service. My motorcycle broke down. Matt showed up quickly and loaded up my bike like it was his. Would definitely call them again.

Jason Williams
16:27 09 Aug 19
I know the guy for many years and is great at what he does and I would recommend him to anyone Rich Miller
05:53 04 Jan 20

Clayton Miller
00:27 11 Aug 19