Roadside Assistance in Pottstown PA
At Jaybird Towing & Recovery, we are happy to be able to provide roadside assistance to drivers in Pottstown PA! Having vehicle issues never occurs at a convenient time and it's stressful. That's why our Jaybird team is here for you, 24 hours, 7 days a week. With many years of experience, we know how to help you get back on the road quickly and efficiently! We are proud to be a AAA Trusted Service Provider! No matter what service you need, or if you're a AAA member or not, our team will be there to help.
Services We Offer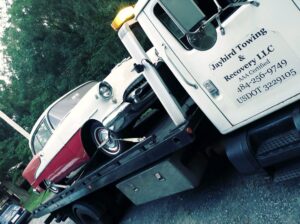 We offer a wide variety of roadside assistance services. Did you lock your keys in your car? Our team is skilled in unlocking vehicles safely with no damage to the car. There is never a convenient time for you to discover your vehicle's battery is dead. If this happens to you, don't worry. Our team of professionals can quickly jump start your battery, and have you on your way in no time.
If you find yourself with a flat tire, we are able to assist in this area as well! We don't want you trying to change your tire on the side of the road, that's dangerous! Someone from our Jaybird Towing & Recovery team will be able to safely and quickly change your tire. We also offer light and medium duty towing services, as well as winchouts and transport service. So, if you need help with any of the listed services, just give us a call today at (484) 256-9749!
Extraordinary Service is Our Goal!
If you need roadside assistance, our Jaybird Towing & Recovery team is here for you! We want to accommodate everyone's preferences for requesting service, therefore we offer a couple of different ways to get in touch with us. One way to request service is to call us at (484) 256-9749. If you prefer to do things online, then we have got you covered! At Jaybird Towing & Recovery, we offer the ability to request service online. Just fill out the request service form here, and then one of our highly skilled team members will be there in no time! Whatever your preference, we want to make sure everyone is able to get in touch with us the way they prefer to!
If you have requested service from us, then we want to hear how we did! Your opinion matters, and what you thought about the service we provided helps us know how to best serve the community! If you would like to rate our service, please leave a review! Include as many details as you can, and include name(s) of who helped you, please! Any and all feedback helps us know how to best serve the great community of Pottstown! No matter how you leave a review, or if you even leave one, we are grateful that you called on our team to help you in a time of need!
Along with Pottstown, we also provide service to drivers in Boyertown, Kenilworth, Pottsgrove, and surrounding areas!